Early Mayfield Settlers of New York
By Phil Norfleet
Official Records
I have been able to find only a few instances of people with the Mayfield surname in the early official records of New York. These few records are listed below:
19 July 1755: John Mayfield, Innholder, is listed as one of the bondsmen re the estate of a certain William Hawkins, Mariner, of New York City. [See Kenneth Scott, Genealogical Data from New York Administration Bonds 1753-1799 (published 1969), page 64]
05 June 1762: Joseph Mayfield of the 46th regiment fell from the deck of the frigate AMHERST in New York City harbor and was drowned. [See the New York Mercury for 14 June 1762]
1780: During the Revolutionary War, a certain John Mayfield is listed on the muster of the Third New York Regiment of Levies, commanded by Colonel M. Graham, in the company of Captain Lansing. [See Berthold Fernow, New York in the Revolution (published 1887), pages 426 and 539]
Mayfield Land Patent
27 June 1770: A Royal land patent is granted to a group of people from England; the grant is called the "Mayfield Patent." I have not yet been able to research this grant but information concerning it was obtained from the "Gazetteer of the State of New York" (published 1861). Under Fulton County (see page 318), there is a short discussion of the town of Mayfield:
"MAYFIELD - was formed from "Caughnawaga," (now Broadalbin, Johnstown and Mayfield), March 12, 1793. ... Mayfield (p. v.) contains 2 churches, a sawmill, a grist mill, and 600 inhabitants. ... Named from the Mayfield Patent, granted June 27, 1770. The town comprises parts of this land and Bleecker, Kingsborough, Saconaga, Kayaderossecras, Glen, Dan'l Claus's, and Norman McLeod's Patents."
Fulton County was formed in 1838 from Montgomery County. Montgomery County had been previously formed in 1772 out of Albany County. Accordingly, at the time of the Mayfield land patent was issued, the land lay within the boundaries of Albany County. The grant lies in the Mohawk River valley directly north of and adjacent to the well-known Kingsborough Patent.
Apparently none of the people named in the grant possess the Mayfield surname. It is possible that these people lived in or around one of the Mayfield Parishes in England hence the name "Mayfield Patent."
Maps of the Mayfield Grant area
A plat map showing the major colonial land grants within the Hudson, Mohawk and Susquehanna river valleys, including the Mayfield Patent (upper central portion of map), is shown below: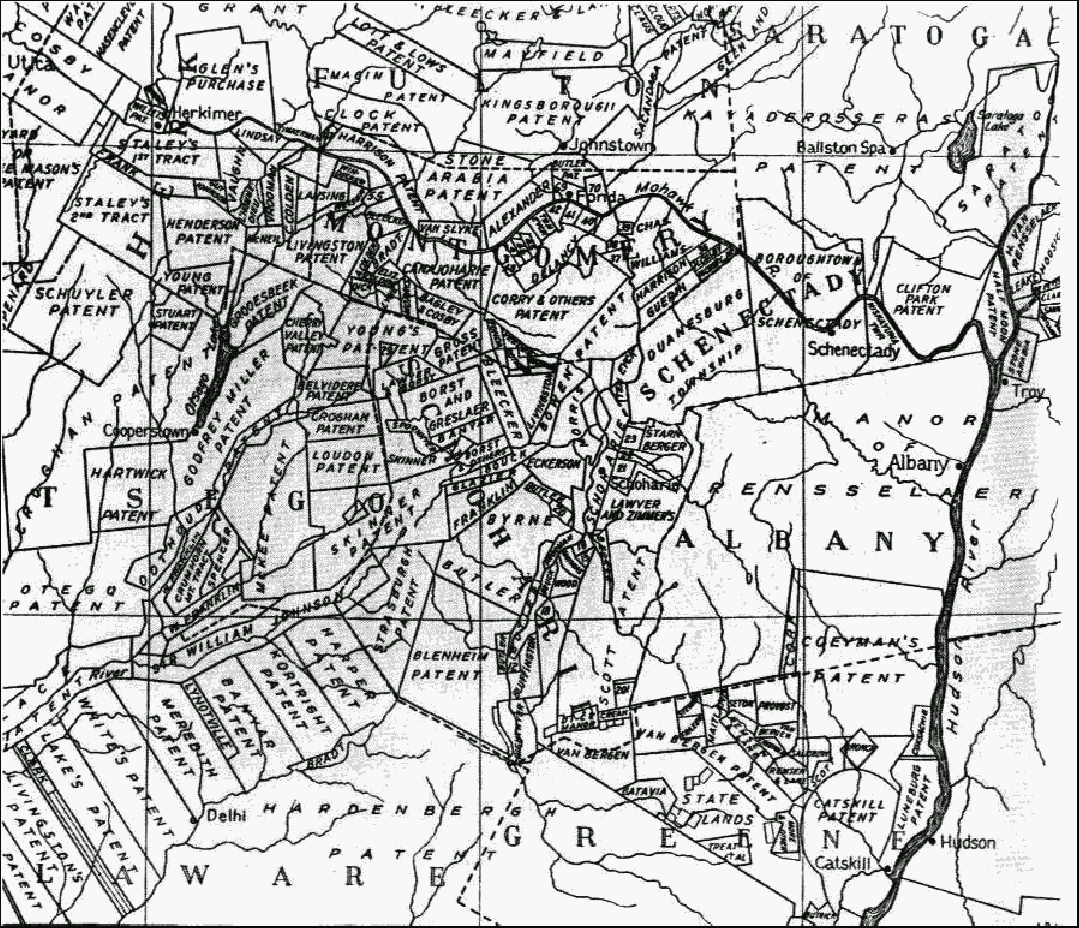 A map showing the Colonial New York upcountry region in about 1770 is shown below: